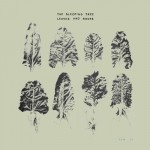 Dreamy acoustic guitar folk pop. While writing this review, I realised that I already have reviewed a track by The Sleeping Tree back in my review on the 50th release compilation by 12rec. and compared him to Bright Eyes. Like then, melancholic voice and acoustic guitar are enough to create mellow impressions. My two picks after the break…
Love is an eternal lie is the release's "hit single" – great lyrics, vocals and chords.
Ninth Leaf is an instrumental tribute to the acoustic guitar.