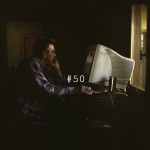 This album is the 50th release of the netlabel 12rec. from Germany. It covers the range of the label which mainly publishes experimental guitar music with a touch of folk. 17 different tracks wait to be discovered. I present my three favourites in the following.
You've Got To Be Strong by "The Sleeping Tree" could as well be by the band "Bright Eyes," as far as the sound is concerned: An emotional folk song accompanied by guitar and sung by a distinct voice.
Sleep At Sunrise by Crepusculum is a purely instrumental track. The first 2 minutes a lullaby-like tune is introduced. Then more instruments set in and the motive is reinterpreted with — I dare to say — more punch, as far as this is possible in a calm, percussion-less guitar song.
Aus aktuellem Anlass is a special track: minimal electronic music with spoken lyrics which deal with the complex subject of war on/fear of terrorism and media.
Tracks
| | | | | |
| --- | --- | --- | --- | --- |
| 01 | You And The Snow // adcBicycle | 4:16 | ★★★ | ♢♢ |
| 02 | Unpacking The Day // The Great Mundane, Fuellsand | 4:38 | ★★ | ♢♢ |
| 03 | Frei Sein // Sichtbeton | 3:50 | ★★ | ♢♢ |
| 04 | Let The Phone Ring // Neuf Meuf | 3:30 | ★★ | ♢♢ |
| 05 | Song For Runner-Up // Nic Bommarito | 3:35 | ★★★ | ♢ |
| 06 | You've Got To Be Strong // The Sleeping Tree | 4:03 | ★★★★ | ♢ |
| 07 | Sleep At Sunrise // Crepusculum | 3:33 | ★★★★ | ♢ |
| 08 | Herons Are Mellow // Daniel Maze | 3:57 | ★★★ | ♢ |
| 09 | Aus Aktuellem Anlass // Nicolas Bernier, Alexandr Vatagin, Audio88 | 3:14 | ★★★ | ♢♢ |
| 10 | Wo Finden Wir Zusammen // Und Morgen, Der Asphalt | 3:12 | ★★ | ♢♢ |
| 11 | Dust Cloud Super Hero // Konntinent | 3:12 | ★★ | ♢ |
| 12 | The Subterranean Of Me And You // Ian Hawgood | 5:23 | ★★ | ♢ |
| 13 | Rubber Traces // Heezen | 4:37 | ★★ | ♢ |
| 14 | Saliva // Werner Kitzmüller, Alexandr Vatagin | 2:25 | ★★★ | ♢ |
| 15 | Yap-Ya // Plaistow | 7:33 | ★★★ | ♢♢ |
| 16 | Light And Bells // Ferriswheel | 4:22 | ★★★ | ♢ |
| 17 | Horried Priest Of Lonliness // kes | 4:32 | ★★★ | ♢♢ |
Stats
| | |
| --- | --- |
| Release | So Much Achieved. So Much Left To Do. |
| Artist | Various Artists |
| Year | 2008 |
| Label | 12rec. |
| Genre | Pop |
| Style | Experimental, Instrumental |
| Download | Link (FLAC, MP3, OGG) |