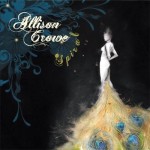 Allison Crowe sings piano-based ballads. This 2010 release back at Jamendo sums up 10 of her songs. Most are calm, some vivid, all honest and moving. Her voice is the main asset of this album.
To select my usual two songs for the preview is quite difficult this time. Hear for yourself below, before downloading the whole release.
Going Home Tonight is my absolute favourite track of this album. Quite calm, almost ambient, yet very emotional.
No Matter the Battle is a nice uplifting piece, quite suitable to push you back to reality after the ride.