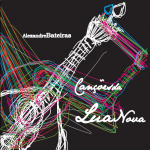 This is Portuguese folk. Acoustic guitars, singing of past times. Speaking of past times, the album was originally released in 2007 on the now inactive Merzbau netlabel. Fortunately for us, the Free Music Archive took over the task of archiving its releases. Only because of that, I was able to stumble upon this jewel of acoustic instrumental music.
Alexandre Bateiras has mastered his instrument, telling stories with simple melodies. Often melancholic, yet never plainly sad, the songs sound familiar yet unknown. Listen and hear for yourself…
Canção da Ribeira has a hell of a chorus. This should be the theme song for a Godfather-type movie.
Bolorina is calm and positive, vibrating with long sequences of broken chords.