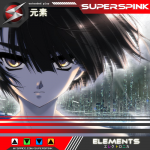 Chiptunes meets techno rock. 8 bit nostalgia goes dance floor, but so well. Conventional beats, fat bass lines are juiced up for an elementary experience. The four greek elements plus void make five tracks, each different but all together danceable. Thanks go to the Japanese netlabel Bumb Foot that has been publishing great electronic for years now. My two favourite tracks from this release and the download link are below.
Fire is a two minute short drill, a perfect track for an intense sprint workout. It's my favourite track for its dense production without any gaps or fillers.
Earth is less busy and takes a whole minute before the beats set in to lift of this track as well. The feeling is nevertheless more trance- less dance-like.