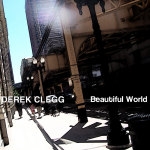 This album is so conventional that it's almost boring. It has the default Pop-Rock instrumentation, that familiar singer-songwriter sound and unsurprising song structures. But hey, that does not have to be bad. Especially when it sounds as good as on this release by DIY Musicians.
Like always, two commented preview tracks await you below, together with a download link awaiting your click.

While the title track is good, my favourite track of this album is Innocent, a slow, tender, uplifting ballade.
I Have Found It by contrast is a catchy, electronic radio pop song. Cheezy, simple harmonies and melodies to sing along and just feel good. I chose it to show the wide range of styles on this album. Wonderful!