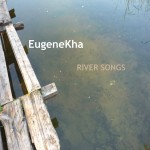 This week's review is about a great piece of Ambient "World" music released at the magnificent Clinical Archives netlabel, a steady source of "eclectic and illogical music". Its self-proclaimed aim is to broaden the definition of music.
EugeneKha's River Songs are not attempt in this direction, but they are a dozen well-crafted ambient songs with a distinct sound with various ethnic and cultural influences. In the following are 3 previews of my favourite songs as well as the obligatory download link.
The River Song is the flagship song of this album. It starts big with a cinematic opening which could fit a broad range of films. Great first 30 seconds! Then the song slowly introduces other motives and instruments, until in 2:10 an oriental touch is added which moves the imaginary scenery.
The Volga Bulgarians strolls through a vivid medina quarter, mixed with traditional western instruments. The comparably strong beat has a quick pace for such an "Ambient" music release.
The Eternal River could be the River Song's elder brother. A little less experimental, but well made and with a great primary motive (played in 1:55-2:25).
Tracks
| # | Title | Duration | Rating | Energy |
| --- | --- | --- | --- | --- |
| 01 | Intro | 1:37 | ★★ | ♢ |
| 02 | The River Song | 6:41 | ★★★★ | ♢ |
| 03 | The Volga Bulgarians | 4:03 | ★★★ | ♢♢ |
| 04 | Interlude # 1 | 1:16 | ★★★ | ♢ |
| 05 | Coast Hope | 6:08 | ★★★ | ♢♢ |
| 06 | Rainsong | 2:58 | ★★★ | ♢ |
| 07 | Volga | 6:24 | ★★★ | ♢ |
| 08 | Interlude # 2 | 2:31 | ★★ | ♢ |
| 09 | Dark Wave | 5:05 | ★★★ | ♢♢ |
| 10 | After A Rain | 2:54 | ★★ | ♢♢ |
| 11 | Reastrained Emotions | 3:48 | ★★ | ♢ |
| 12 | Interlude # 3 | 1:00 | ★★ | ♢ |
| 13 | Slippery Coast | 3:19 | ★★★ | ♢ |
| 14 | Mirror | 5:21 | ★★ | ♢ |
| 15 | Last Mooring (Part 1 & 2) | 3:37 | ★★★ | ♢ |
| 16 | The Eternal River (Radio Edit) | 5:21 | ★★★★ | ♢♢ |
| 17 | Final Passage | 3:54 | ★★★ | ♢ |
Stats
| | |
| --- | --- |
| Release | River Songs |
| Artist | EugeneKha |
| Year | 2010 |
| Label | Clinical Archives |
| Genre | World |
| Style | Ambient, Instrumental |
| Download | Link (320Kbps MP3) |