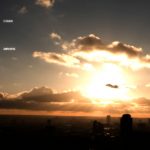 Back in 2009, I started this series of reviews with Coax's The Ice Garden. Ever since, I was hesitant to write another review on the same artist. But I have done so multiple times over the years now, so it's time to finally break the spell and give Coax their second review. Their music deserves it, after all: frosty, ambient IDM, released at the notorious Kahvi netlabel, well known for delivering quality electronica by truck.
Polaris is a comparably upbeat clicky track with many breaks, but Coax's signature drones as a calm backdrop. Delightfully contrasting!
Solipsism is the netlabel's recommended track, so I better follow along: it's got a pleasant, slow start, but has cheerful attitude with its dotted synth melody jumping around.