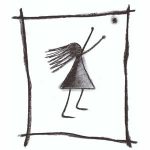 Early listeners on Jamendo equivocally praised it to be one of the best submissions on the platform. While the free music scene has exploded with thousands of artists, this release for me has stood the test of time. The title track made into one of the early Free Music Contest 2010 compilation conducted by Musikpiraten, an association dedicated to making known high quality Creative Commons music. But back to this album:
The Masquerade plays out like routinely produced power rock, bordering on soft metal sound.
Unshackled waters represents the slower tracks with a mellow guitar instrumental.