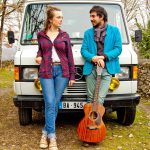 Acoustic vocal indie pop. This gem from French-Finish duo Eva & Manu has unfortunately been de-published by the creators from the original sources, but the archive.org mirror is still up. And thanks to the nature of Creative Commons license, I can be sure that it remains legal to download the original EP. Four songs long, it contains at least two hits.
Feet in the Water has powerful vocals. Awesome!
Forgive me reminds me a bit of Feist's voice and sound.