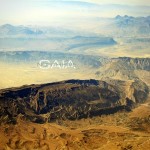 Detailed ambient treasurebox. If you are easily offended by non-musical "noise" in your music, give this release a try anyway. While North Hive heavily uses field recordings for its compositions, the results often sound quite musical. This album was released at Enough Records.
Arrival slowly drones into this album. Long, fading tones, no percussion; almost (but not quite) harmonic sequences create alien ambiance. This track waits to become a movie soundtrack.
Inner Lake begins with a soundscape intro (walking through a forest, arriving at open water), followed by 6 minutes of musical meditation. A-grade relaxing material.