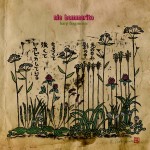 Melancholia shoegaze in beautiful cinemascope. Think Ennio Morricone's classical movie soundtracks, but in today's style. The same deserted emotions, but mixed with modern post rock. 7 tracks, released at netlabel 12rec, brilliantly show that post rock can be so much more than guitar effect avalanches.
Lhasa has wonderful chord carpets with guitars and violins. A musical foam bath 🙂
Schießengeistbären is a somehow restless meditation. Oscillating between calmer moments and walls of guitar effects, the song never keeps still.