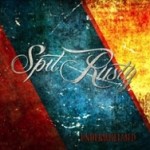 Punchy hard rock from Denmark. Loud, very loud. And fast. And LOUD. Erm… what else? Oh yeah, they have cool guitar riffs, excellent drum patterns, transitions. Head-shake-inducing chorus lines. Cannot. Write. Long. Sentences. Must. Move… Read on for my two favourite tracks and the obligatory release link…

Drift Alone is like the whole (4 track) EP, but IMHO the catchiest title.
Stick To The Trails is honest, loud and loud. Did I say loud? HELLO?