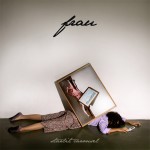 Soft Vocal acoustic pop, slightly eccentric. Piano and voice are the weapons of choice of Indonesian artist Frau. From scarce notes and harmonies, a strange magic unfolds that reminds of old and traditional songs, though being contemporary compositions. The lyrics speak today's language and tell beautiful stories. My two picks – as usual – after the break…
Mesin Penun Hujan is the album's "signature" piano ballad. Soft, tender, cute.
Rat and Cat rumbles and has slanted harmonies. Interesting!