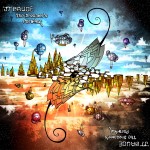 Powerful instrumental progressive rock. And quite versatile. The 11 tracks of Dreamer's Paradox contain both epic and silent pieces. All instruments are produces with much attention to detail. The album packed with great guitar riffs, bass lines and drum patterns.
Plunge Into Hyperreality seems to consist entirely of cool riffs, spread out to nearly 5 minutes.
The Dreamer's Overture is the furious opening track. After a 40 seconds intro, drums and guitars are spread all over your ears.