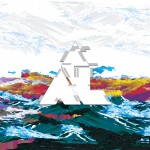 This joint release from the netlabels Clinical Archives and No Source features Daniel Finfer's (almost) solo project Ancient Lasers. "Sonically the music sits comfortably somewhere between Nine Inch Nails and the Postal Service" tells us the release notes. Where does this leave us? With shoegazing, stomping, screaming post rock worth a place in my personal annals of music representative for this decade.
You In The Future is the burning, screaming reason to listen to this album. You won't be disappointed. Guaranteed.
Directions is a pop rock ballad with a sing-along chorus par excellence.