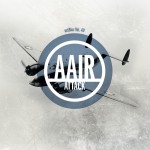 It's great when an awesome compilation of first-class free music makes to its 40th release. Few similar projects have managed to see their 10th release. The happier I am to be able to write this review. For now over 5 years, the netlabel blocSonic has been pumping out the netBloc compilation series, in addition to a regular release schedule. Enough praise, what's the music on this release?
Morning Light by Mate best represents this release for me. Splendid soft guitar rock with juicy riffs, tender vocals and solid percussion.
Rocket Trip is fine Trip Hop à la Massive Attack. Only finest samples are mixed with smoky vocals that sound like Soul.