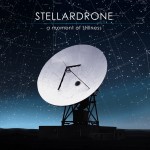 Stellardrone is an artist from Lithuania, excelling in the art of creating ambient music that causes neither coma nor nausea. The secret lies in finding the balance between repetition and catchy tunes.
This release sounds, while being cold and spacey on the outside, quite warm and meditative.
Billions And Billions sounds to me like the increasing sound of more and more stars appearing in a dark sky.
Twilight uses only one background ostinato and a single melody line. Bliss.