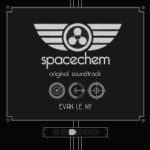 Professional music producer releases soundtracks under Creative Commons licenses. Sounds like Jan Morgenstern (the composer of most Blender movie OSTs)? Yes, and there are more out there. Evan LE NY produces epic and orchestral soundscapes. The music on this release is featured in SpaceChem, an addictive indie puzzle game.
Opening features all "epic" sound elements: string carpets, percussion, chorus samples. Very nice, but disappointingly short.
Some Elements is an almost ambient pulsating background chord wobbling, resolving in a nice "finale" around 1:40.