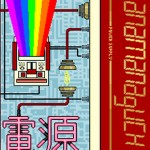 Yummy chiptunes from New York! Powerful beats, juicy chords and lovely melody lines show what sound can be made from those old 8 bit sound chips from vintage computers and consoles. Seven very different tracks make this one of the few chiptune releases that I like to hear from start to finish without getting bored.
While there are many fish in the sea, Anamanaguchi sticks out for his (her?) craft(wo)manship in song composition. If you still think that this genre is not for you, give this release a try.
Helix Nebula starts with its hook line phrase and then fires off its masterpiece of a chorus. Instant 5/5 stars.
Sting Operation is solid work. Plain, honest, straight harmonies with sometimes a bit too punchy percussion.