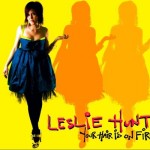 Pop rock with intense female vocals. Upbeat songs, piano ballads. Rock band and orchestral background fillings. All that and great lyrics. Simply wow. Thank you, Leslis Hunt. If you like this album that she released on Jamendo in 2009, you can buy her latest release directly on her homepage (or in iTunes).
Sea I Provide rocks heavily. The groovy bass line is supported by upbeat percussion.
Open Your Eyes seems to have been written by P!nk. The similarity is striking. The production is excellent, including the cello (!) bridge.