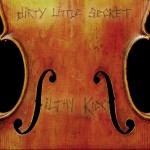 Filthy Kicks is a music producer from London, teasing us with this gem. Is it a concept album? Yes, oriental influences. Is it dance music? Absolutely. Await to be blown away by this blend of drum & bass, dubstep, orchestral sounds and a voice… what a voice!
Crave is a crossover of oriental and dance track, sweetened by seductive female vocal samples, breathing "It's you I crave" into the microphone. Sweet, really.
Deluge is a dubstep ballad. The signature wobbling sound, drums, vocals; shades of Massive Attack.