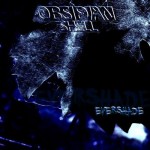 Sounds like Nightwish, but less cheesy. This could be the end of this review, but I am used to write more than one sentence. Obsidian Shell are one of the best bands on Jamendo, with an impressive series of five releases ranging from 2009 to 2012.
For those of you who don't know Nigthwish: Obsidian Shell play symphonic metal with female vocals, and well they do! I discovered this release while listening to Faldrians Feierabend, a nice radio-like podcast with two hours of music and interesting topics in between.
Die With Me was a long-standing entry in the (now discontinued) Free Music Charts on darkerradio.
Misanthropia's best part for me is its intro. The song fades from an electronic intro to a typical metal song.