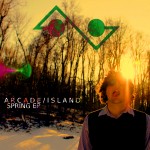 Arcade Island is an electronic alternative rock artist. This release reminds me a bit of pandoras.box (review of their album Barriers).
Floating guitar chords, soft radio pop beats, sometimes harder, great vocals all make this album a breeze to listen to. It is brought to us by the well-known Clinical Archives. Read on for a selection of my favourite two tracks and the download link.
The opener Refugee is my favourite track. It sounds weightless, hovering in the air and lifting you up while listening. "When I close my eyes, you are all I see…"
Beautiful Distraction is slower, nearly a ballad. If you like acoustic guitars, go for it!