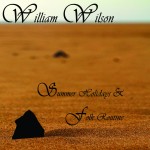 William Wilson that is easy to listen to, but hard to describe. Take some soft alternative Rock, add small drops of Electro, Jazz, Classic at selected spots.
It is released at Lophophora Williams, a young netlabel with five releases since 2010. If you like what you hear here, look into their catalogue!
Vita Ludus Est is a great rock song. And a great electro song. How I like genre-spanning compositions.
Blank is a jazzy, laid-back ballad. Oh, an the vocals are marvellous.
…By-Night September Sky is an instrumental piano piece with full background orchestration. Wow. Blows my mind. I better stop, though I'd like to present track #5 as well…