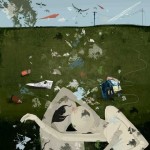 The netlabel Sutemos releases excellent electronic music since 2004. This sampler is the first I stumbled into first. It took me some time to discover the beauty of most songs; it is well hidden from the casual listener by slow and silent composition. It is best heard late in the evening in a thoughtful mood. My favourite songs come from stockfinster, whose contribution I already reviewed in his release All becomes music. So I selected two other tracks for the preview below.
Streetlights Are Soldiers by The London Apartments is not for everyone, the tender vocals are on the edge of sounding destroyed.
I'll Meet You There by ST is the most pop-like song on this sampler. Laid-back beats carry a relaxed and catchy melody. Only the harmonies are too complex/uncommon for a usual radio song.