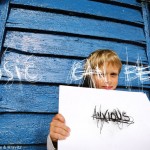 Great ambient shoegaze Electropop like AIR. Hm… that's stockfinster in a nutshell. What else to write? Of course they don't sound exactly like them, they seem to have taken up influences by Zero 7, too. They are more difficult to classify as purely easy-listening, a little bit of Trip Hop is in the mix. 10 tracks or 1 hour of great music. This is one of the rare releases in which I usually don't have to press Next once. Like usual, read on for a preview of my favourite tracks and the download link.

Ergo seems to have stolen a guitar sample from Zero 7 – just kidding. I just like those decently played, slow guitar ostinatos that you cannot stop humming all day long. A flangered electric guitar swirls in the background and a harmonica dances through. And the guitar plays on and on its simple tune. Great… *repeat*

A Crack In Time has beautiful lyrics. And marvelous harmonies. And is soooo relaxing. The song is like a big, hot bubble bath for your brain. Don't skip it before you have heard the title – the spoken word part needs some time to get used to. Now I like it – even though there's too much "this generation is unique in the whole history of the universe" overestimation in it.