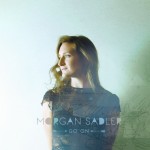 This week's review is about great pop music. Take a great voice, add piano and guitar, some percussion, mix it and you get this single release from Happy Puppy Records. This release has only two tracks, but both are worth the preview below.
Go On starts with a piano chord sequence, then the magnificent vocals set in. Soft guitar notes accompany the repetitive but never boring song.
Going Nowhere (funny song title, by the way) has the genes of a classic radio pop ballad. Catchy, easy harmonies and a great production make this song a frequent guest in my playlist.