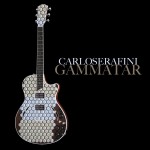 Why always stick to the boring, twelve-halftones-per-octave, well-tempered diatonic scale? That's what Wendy Carlos (creator of the soundtrack for Stanley Kubrick's masterpiece Clockwork Orange) might have thought when inventing his muscic scales Alpha, Beta, Gamma and Delta.
Carlo Serafini took the Gamma scale, tune his guitar and recorded nine songs with this tuning. The sound is strangely familiar, yet uncommon and irritating. Better listen and find out yourself…
Gammatar, the title track, is both introduction to the album and to the possibilities of the Gamma scale. No tone sounds straight due to the unfamiliar intervals. The harmonies sound alien. Fantastic!
Jingle Gamma Bells is of course a re-interpretation of Jingle Bells in Gamma scale. It displays the transforming effect of the shifted intervals on a well-known melody.