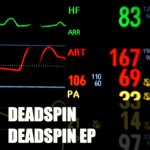 Free online music is still often linked to eclectic, weird and experimental music. This rock album from 2006, recorded by the band Deadspin is a good counter-example of artists who offer their first release for free. In September 2009, their second album Little Birds Are Like Bullets was published at Split Infinity. In between, several live acts were added to the Internet Archive. As I only review free music here, I stick to Deadspin EP. But have a listen to their new album on the band's homepage,too! I would compare their sound to a mixture of Coldplay and Sting, but only to give you a rough estimate on how they sound without hearing them, what you can do in the following:
October is one of two tracks that is present on both releases. However, the 2009 version was rerecorded and has crisper sound. Nevertheless, October also rocks in this version. Radio-compatible soft rock with extra synth-pads, a great drummer and a relaxed voice in the middle.
The Story Never Told has one killer riff that hooked to my brain immediately. I hits you in your face right at the beginning (0:10). The bass line glues the 6 minute long song together. Above it, producer Geoff Chase mixes several instrumental solos.
All in all, it is a great album for "general" listening. It doesn't annoy you but also does not interfere when, say, writing a review. One last remark: the EP does not have an official album cover, so I dared to create one myself. The picture is a photo of an ECQ, taken by user hamma at sxc.hu.
Tracks
| # | Title | Duration | Rating | Energy |
| --- | --- | --- | --- | --- |
| 01 | Renown | 5:06 | ★★★ | ♢♢ |
| 02 | Crab Canon | 0:35 | ★★★ | ♢♢ |
| 03 | October | 6:08 | ★★★★ | ♢♢ |
| 04 | Bingo | 5:16 | ★★★ | ♢♢ |
| 05 | LX-55 | 5:22 | ★★★ | ♢♢ |
| 06 | Stardust Projectile, Come Into My Heart | 0:22 | ★★ | ♢♢ |
| 07 | The Story Never Told | 6:09 | ★★★★ | ♢♢ |
| 08 | Without a Trace | 5:49 | ★★★ | ♢♢ |
Stats
| | |
| --- | --- |
| Release | Deadspin EP |
| Artist | Deadspin |
| Year | 2006 |
| Label | N/A |
| Genre | Rock |
| Style | Blues Rock, Classic Rock, Soft Rock |
| Download | Link (FLAC, MP3, OGG) |