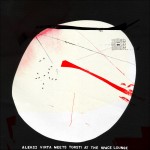 Relaxed vibe entering your ears! This ultra-cool release at Monotonik — which sadly is on hiatus at the moment — is really great background music with attitude. It features funky beats and chords, sometimes accompanied by fitting recordings of miscellaneous voices. As usual, I present 3 of my favourite tracks which are described in detail while you can listen to them.
O Tema De Viagem Especial sounds like am samba or mambo tune cross-bred with relaxed dub music. It makes you want to move and just sip at a cooled drink while sitting in a comfy sofa.
Princess Meoldiae, the last track, starts as a slow and melancholic song played by a harmonic. At 1:02 the beat sets in and pushes the song's mood in a more active direction. Then the main flute theme is introduced which is such a catchy tune that I think I know it from somewhere in the classical music corner. Nothing noticeable happens from there on, but the track stays interesting by playing with the beats and flutes.
Dragons is probably my favourite track of the album. A terrific brass theme together with a swirling SFX sample, probably taken from a video game, a jamming Hammond organ and some short voice samples result in a great, danceable easy-listening track.
Tracks
| | | | | |
| --- | --- | --- | --- | --- |
| 01 | Outer Edge Intro | 2:58 | ★★ | ♢♢ |
| 02 | Nebulae Herb | 3:21 | ★★★★ | ♢♢ |
| 03 | Cosmos Bossa | 4:32 | ★★★ | ♢♢ |
| 04 | Gavrila Nebula | 1:01 | ★ | ♢ |
| 05 | The Giant Catch 22 | 4:26 | ★★ | ♢♢ |
| 06 | Whirlwind Pistols Dub | 3:13 | ★★★ | ♢ |
| 07 | O Tema De Viagem Especial | 3:39 | ★★★ | ♢♢ |
| 08 | Art Of Far | 1:49 | ★★ | ♢♢ |
| 09 | Dragons | 2:46 | ★★★★ | ♢♢ |
| 10 | True Dwelling Place | 3:20 | ★★★ | ♢♢ |
| 11 | Princess Melodiae | 5:48 | ★★★★ | ♢♢ |
Stats
| | |
| --- | --- |
| Release | ..Meets Torsti At The Space Lounge |
| Artist | Aleksi Virta |
| Year | 2004 |
| Label | Monotonik |
| Genre | Electronic |
| Style | Funk, Downtempo |
| Download | Link (192Kbps MP3) |