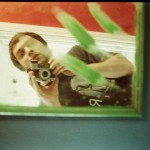 This week's release comes from the netlabel Sutemos. It features experimental ambient electronic music. This remix album contains several versions of some very good songs; overall, the sound is calm, blended with long-stretched instrumental samples. Well produced vocals with whispered voices seem to be the label's signature move.
My favourite track is no. 4: Butterfly, remixed by Monoceros. It is a meditation, slowly building up its melancholic tunes. Electronic sounds and digital noise well harmonise with the breathy vocals. Best heard with earphones!
Another strange, but highly enjoyable track is no. 14, named Without You. Vivid acoustic guitars create the base for a Zero 7-like relaxing song. Trumpet and vocals alternate in playing the melody.