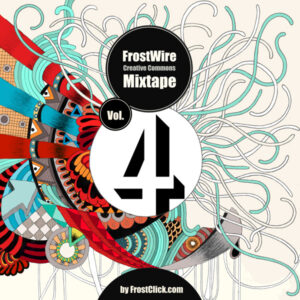 Surprise find while digging through the archive.org backwater: BitTorrent client developer community FrostWire promotes Creative Commons artists on their homepage. This has even lead to them creating 7 mixtapes over the years. So what does no. 4 contain? Surprisingly pleasant pop music!
The unmistakable Black Eyed Peas inspiration is both a blessing and a curse. On the one hand, danceable grooves. On the other hand, the production quality cannot compete with the sheer force of the original.
Groovy soul song with an exquisite instrumentalist combo for more punch.
Not easy to get me to betray my principle of sticking to 2 tracks per release, but this track must excuse the exception. Like a calm Aurora or a step-sister of Feist, the vocalist carries this mellow number to great heights. Magical pop at its best.
License disclaimer: although I find the Creative Commons declaration extremely credible, the release does neither specify variant nor version. I bet it varies by track and would require to be checked individually. For listening, that's no big deal. For remix artists, it's an inconvenience. For collectors like me who like their tags in order, its a nuisance.
Download
Release page (FrostWire)
Release mirror (archive.org)