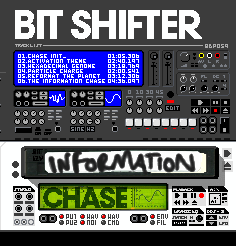 Six 8-bit style tracks produced on the Game Boy, the album itself an oldie by now, coming from one of the genre's great names. While I don't recommend to listen to hours of chiptunes in a single run, the nostalgic vibes one can get out of this genre well justify exposing your ears to raw sawtooth, blank noise and only mildly filtered sine waves…
What a tune, what a tune! Filled with catchy melodies from start to finish, served on top of punchy beats. Delicious.
More cinematic, reminiscent of old side-scrolling shooter games set in apocalyptic scenarios, crashed spaceships and fallen buildings in the background.
Download
Release page (Bandcamp)
Release mirror (archive.org)
Artist homepage (bit.shifter.net)