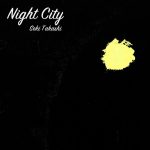 Ambient music is hard to discover for me: while I am in the mood for exploration, I tend to favour louder and more immediately "gratifying" productions. This EP released at a Portuguese netlabel focused on Japanese music – yes, apparently that's a thing – MiMi Records. Here, calm bleeps create an ambience very conducive to relaxing activities.
Intersection lives up to its rectangular promise: regular patterns, repeating throughout the song, orthogonally intertwine in regular distances.
Way Home is the friendly closer to this 5-track EP.
Download
Release page (clubotaku.org)
Mirror page (archive.org)