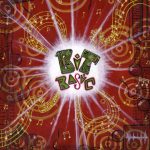 Ever heard of the genre "drill & bass"? No? Me neither. Imagine a DJ aiming for dance music, but only equipped with 90's Disco/Pop/Funk/Techno tapes, a pair of scissors (blunt) and a synthesizer. Yes, the result might take more than the first listening to appreciate, but the sheer amount of funk, groove and rhythm that oozes out of every track is great! Let me show you what I mean by listening to these three tracks:
Sprinkling Rainbows is my favourite pick and a reference to Bitbasic's previous EP Grating Rainbows.
Flannel is built around roughly three acoustic guitar riffs, spliced, repeated and cleverly arranged in every other way, and padded with percussion liberally. The result is almost too danceable.
Blueish finally rounds of this selection by showing the pop and trip hop face of this album.