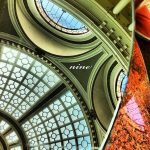 diym netlabel is (or was?) a netlabel focused on non-electronic genres, that is, mostly rock and pop music. I have already covered their seventh compilation, called 7, in an earlier review. This ninth instalment is a small but excellent collection of mostly, but not only, quiet music:
The World Beyond is Gone is punchy progressive synth rock, with meaningful melancholic lyrics. Simply great.
Hell or High Water by Pete Davis is acoustic guitar based vocal pop. Soft voice and calm piano complete a simple yet satisfying song. The build up to the chorus is textbook, up to the bells ("Glöckchen!"; scnr, Faldrian will know), but executed beautifully.
Starbud is the compilation's surprisingly deep intro track, whose qualities I failed to see when first listening to this release back in 2011. To rectify this, I break my usual restriction on two tracks per release… Listen to this track!
Download
Release page (netlabel blog)
Mirror page (archive.org)