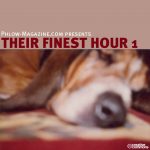 This release is thanks to a very active curator in the netlabel scene. While Phlow magazine seems no longer active, its main author Moritz »mo.« Sauer still pushes work to his public GitHub profile for other projects like netlabels.org. But to talk about the music: it's mostly pop, some electro sprinkled in and 2 tracks that I don't get. Of course, I have picked two different ones to represent this compilation:
Energy is for Henrik has the radio gloss, electro finish, and delicate lead voice.
Opener Bye Bye Snow is a sugar-coated guitar-based vocal pop song. Cheesy, but good.
A close third would be the instrumental hip hop trakc Floripondia (#4) which lands itself plain into trip hop territory. Find out for yourself: