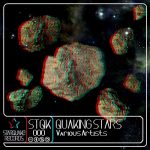 Starquake was an active netlabel from 2011 to 2015. During that time, it was dedicated to promote music by their creators and DJs in Torino, Italy. Although short-lived, their music remains an important contribution to the Creative Commons music catalogue for me.
Existar by Lebatman is the first track to be released by Starquake. Intentionally, it is more like a long, calm intro. I like the anticipation brewing in its first half.
Deep Drop by The Crossfaders is the essential Starquake track: loud, stompy and incredible catchy.
No. 3 on my list would be the closing track #10 Starquake (End Titles Version), which forms a closing bracket with the calm intro.