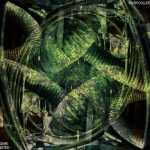 Kahvi does what kahvi does best: introducing us music addicts to obscure but resourceful artists out there. This classic only slipped through my earlier release schedule because there was (and still is) no MP3 version of the release available on archive.org. But now that all browsers (yes, I'm looking at you, IE/Edge) support OGG natively, I can include this three track EP here without fear. Oh, yes, the music was worth the wait:
Loell is awesome for its pulsating vibes, and the slightly cheesy melody. Feel-good in synthy form.
Papilio is silent, but has punch. Lush cyber-meadows pass by the inner ear.