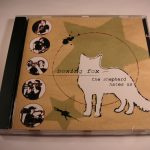 Wow, only 9 years after release I come to review this album. 11 tracks of honest ska punk rock, fully equipped with brass section, off-beat guitar riffs and half-screamed lyrics. I find nothing special about this album, but that's a good thing: it represents its genre well.
Good Mood is the energetic opener, high on ska, low on punk.
Nicht zu zweit won't win a price for witty lyrics, but music-wise the track is spot on.