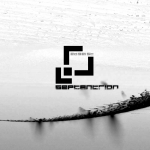 "Not fun, but effective." That's the note I made to myself when adding this release from Portuguese netlabel Enough Records to my review queue. This 5 track EP is from the "power noise" genre, so do not expect Disco, but industrial sounds.
Contact is the most "musical" entry, featuring rhythmic, driving beats and stripped-down harmonies dominated by an octave jump.
Beacon is the furiously stomping entry to this tour de force. It's not the roughest track, but gives you a gentle look of how harsh it gets.