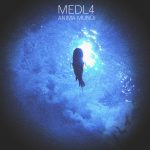 This blog has seen its fair share of releases from netlabel Dusted Wax Kingdom. Somehow, they manage to consistently select for artists that produce the label's signature sound of vintage sound samples, mixed with contemporary beats and effects. So does this recent album by MEDL4.
Matters Of showcases the album's faithful adherence to the instrumental hip hop recipe: well selected audio samples, looped over a fat bass line and big beats.
Anima Mundi is dominated by a (partly) time-reversed piano sample. Lounge-like downtempo with groove.