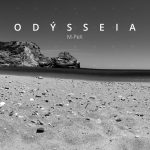 This gem I found via the Enough Records mixed tape for the 2016 CC Europe Meeting in Lisbon. It features artists M-PeX (Portuguese guitar), André Coelho (double bass), and DJ X-Acto who provides the electronic part. It's incredible stuff that deserves much more attention than the release's view counter indicates.
Sperare is representative of the album's first acoustic half. Two instrumentalists, playing their tools in harmony.
Odýsseia additionally features DJ X-Acto, who provides a windy intro sound, and otherwise warps the acoustic sound into the future by adding clicks, bleeps, synth. Extremely cool stuff, which goes on for another six tracks in the album's second half.