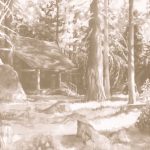 It is surprising how much can be accomplished with only long, soft chords, without any percussion, in terms of structure and rhythm. While most artists that employ these drone tones work without a discernable short-term rhythm, Geotic succeeds in giving his bars a certain punch. Interesting!
Our Windows Glow, Safe From Frozen Trees has me hear a rhythm, by just muting and unmuting some parts of the meandering chord patterns. Do you hear it, too?
Sleeping Forever, We're Gods On Miles Of Clouds has an uplifting chord progression, and some basic song structure. Very approachable track, especially towards the end!