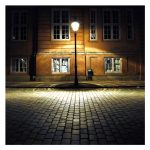 Straightforward post rock. Hermelin is 4 guys from Hanover in Northern Germany, performing at least since 2008. On April 1 this year they have released their newest album called Tüdeltüt. While their newest work certainly has increased in terms of production (sound quality, mixing), their first full-length release has its charm, too.
I Felt Xetrov has a strong intro, just to change pace and rhythm one minute into the song, for even more pace. Then, a break, followed by the band's signature slow build-up for a grande finale.
Pliant Fur… has long, rising and falling carpets of soft, noisy guitar riffs, for almost 9 splendid minutes.