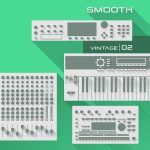 Elegant monotony. Six tracks, spanning almost one hour, produced using vintage equipment, elegantly fill the air with damp synth sounds and calm beats. Be prepared for Deep House for dark moments.
Phase in Space nicely introduces the album's core concept one sample at a time. By the time the build-up has completed, you are either in trance or royally bored.
Four channels of fortune has a slight disco feel to it.