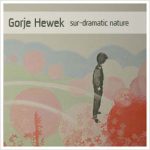 Silently impressive. Gorje Hewek is a master of deep house and similar styles. He has performed at Burning Man 2016. In this old release back at trusty netlabel Fuselab, he shows a more silent side of his craft.
That in it has a refreshing upbeat feel, with its occasional beets and otherwise fluffy, airy synth sounds. Very recommended!
At that Cafe is the most silent track of this EP. Ambient sound recordings, blended with stationary piano chords. Then the strings set in. Oh, how beautiful melancholy can be. This track is my silent champion of this release.
Download
Release page (archive.org)
Artist page (Soundcloud) (Twitter)