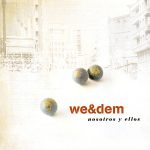 Laid-back Reggae tunes. Spanish band We&Dem, according to Spanish Wikipedia article, has been founded in 2002 in pictoresque Zaragoza, Aragon. Influenced by Bob Marley, they craft solid, unsurprising Reggae tracks. 15 tracks, just short over one hour, made it into this 2007 release, which was published on Jamendo and Autoeditados, a Spanish publishing platform. Find my two recommended tracks and the download link below:
Killer Children has a nice chorus and a slightly different rhythm…
The Change — I like it for its brass work.
Download
Release page (archive.org mirror)
Play on freemusi.cc