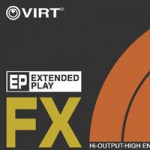 Classic(al) chiptunes. Virt is one of the great masters of this genre. Chiptunes are about taking the limited resources of old audio hardware and trying to bend the space of what is possible within these constraints. This EP (and it's successor, FX 2.0) are soundtracks to imaginary NES (Nintendo Entertainment System, 1980s) games. And then there's this bonus track…
Good Morning, Dracula shows excellent instrumentation with limited resources.
Classical Favorites 2 (Bonus!) is a furious medley of over half a dozen classical music hits, all with a bleepy flavour. Citing from the release notes:
And as for the bonus track, "Classical Favorites 2", with the cheeky pause/unpause action and staggeringly complex instrument-programming under supa-extreme limitations – well, don't even get us started. It's yummy in our tummies, yet again.